I just went to a meetup in San Francisco and the usual happens: you meet a lot of people in a typical short period of time and you're either impressed or not after walking away from them — that's the truth. And before you move on to the next person, you may ask, "How can I follow up with you?" or say "Would love to keep in touch." Living in the digital age, it's easy because we just exchange our social media handles and connect with them professionally with LinkedIn. While it may seem antiquated, exchanging each other's business cards is still relevant. And yes it does matter not only on how they look but also how they literally feel.
For me, I've had my own business cards since high school and even then, I'd stress on how they looked. For the longest time even, when I wasn't as confident as calling myself a photographer, I didn't even include the title "photographer" in my business card — just my name, number, email, and website. I'd design my own cards and found different printers along the way that were always of great quality.
I've come across plenty of business cards as I've met a ton of people to this day and to me, a business card is one of the last chances to leave an impression. As a business owner of doing commercial photography and video, I am of course finding my next client and when I do receive a business card from someone,
I evaluate a prospect on two things based on their business card:
Design
Quality of the paper

While of course I'm judging a book on its business card cover,
I'm able to get two questions answered from their business card:
How much does s/he care about how her/his business looks?
How much does (or would) s/he spend for her/his business?
Design is surely subjective but I believe anyone can tell poor design from great design. The main difference of course is being able to not only find a great designer but to be willing to spend on a designer to work with. With business cards, you can also feel if one is cheap just based on the paper weight and type. When you do work with a designer, s/he will also be able to recommend printers that have great service and quality. And personally, I think not printing on the backside is a waste: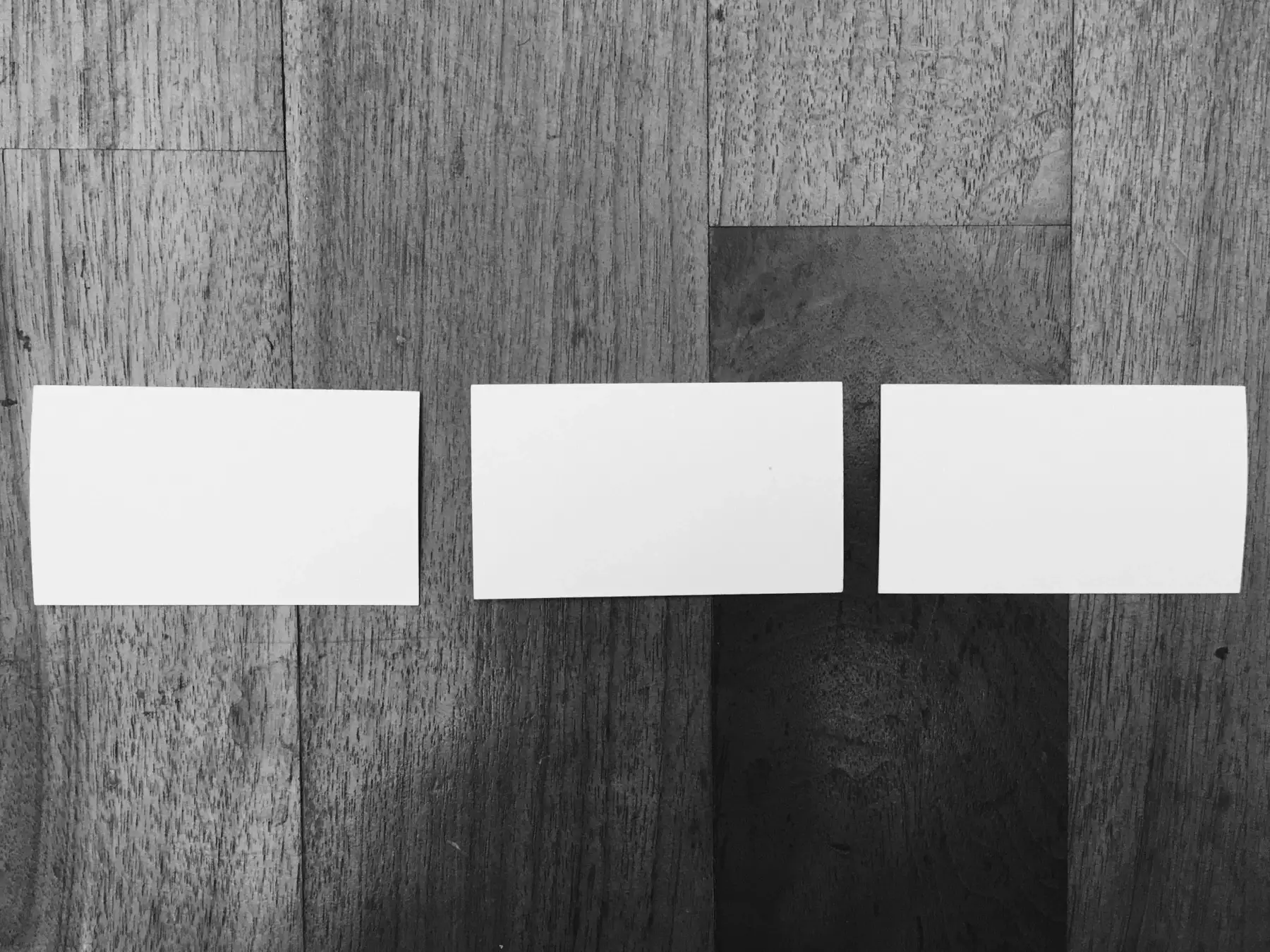 Several cards received had nothing on the back. While some business professionals say it's good so the recipient can write on the back of card, I personally highly doubt that.
At this point, don't aim for quantity ("500 cards for $14.99!") but certainly aim for the quality per card. It won't be often to actually give someone your business card so make it count and be selective to who you give them to. And yes, you will be spending much more per card because there are more options when it comes to printing. A great designer will also help you decide if embossing, debossing, blind embossing, gold foil, silver foil and such are right. And the paper options? Way too many to mention other than simply the thickness of it.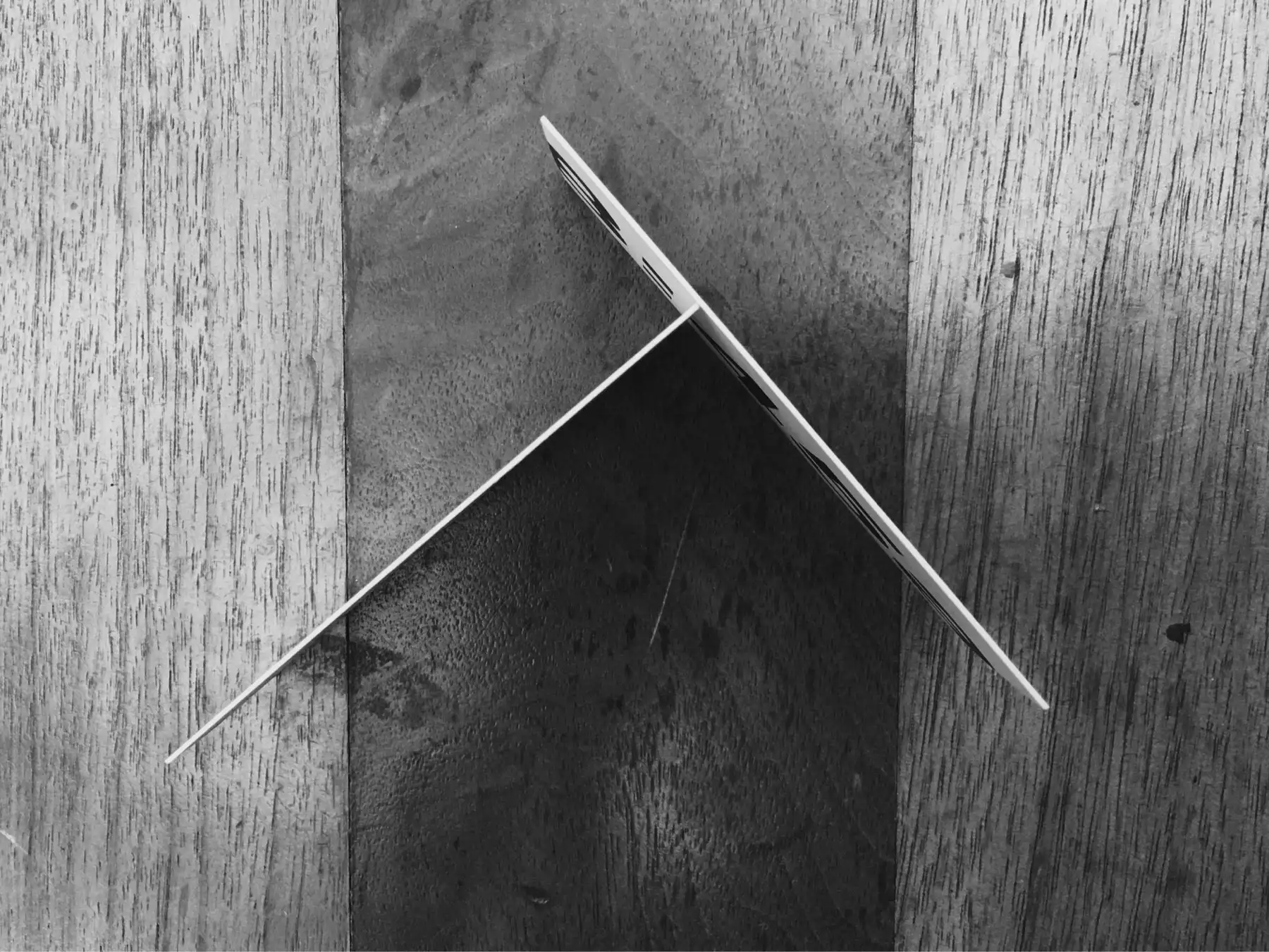 Choose a thicker card stock because even in the hand of your recipient who may have other cards, you want to still stand out.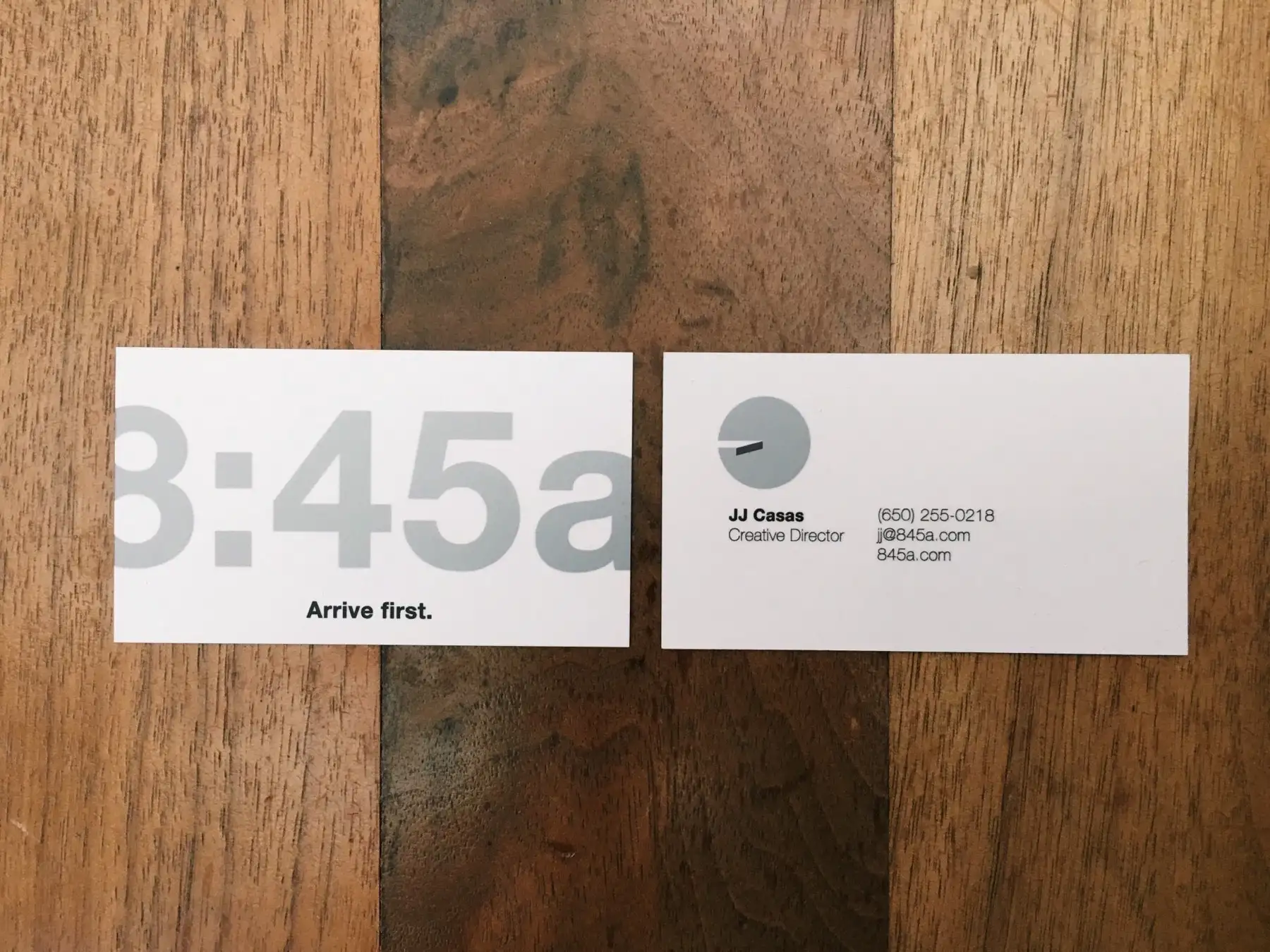 My 8:45a business cards printed with silver ink from 4by6.com
Silver ink in action.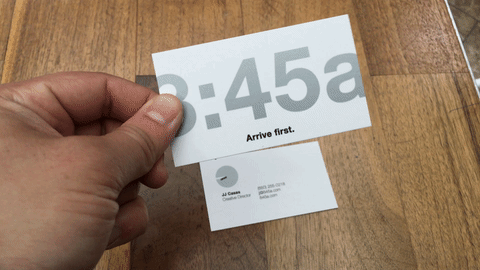 Moral of this post: If you're going to get business cards, don't skimp on getting a designer to help with it if you know you're not good at design. Your brand has a few touch points when making an impression and one of them is still a business card. Don't let that opportunity go to waste as a simple piece of paper can leave someone in awe.
P.S. Haven't you seen this scene from American Psycho?